As a family historian who likes to share what I'm working on, I often have big ideas for holiday gifts – books full of stories and photos of ancestors, unique family tree charts, and photo pendants with beautiful ancestor pictures. These are fun and rewarding to create but if you haven't planned far enough in advance, it's easy to run out of time.
Also, after FamilySearch CEO Steve Rockwood's talk at RootsTech about sharing 1 minute stories, I've realized that some of my family history gifts have been too long and overwhelming for the recipient! Instead, how about pairing one of the ideas below with a one page story or memory and give the gift of "love, joy, peace, happiness, inspiration, connectedness, and belonging" – the feelings that Rockwood said accompany our family stories. He suggested that we try to include small memories and family stories into our daily lives.
So for this Mother's Day (May 8 this year), I wanted to compile a list of easy photo gifts that can be included in our everyday lives. For each idea, you'll need is a digital copy of an old family photo or another kind of family document (recipe, newspaper clipping, certificate, map, etc.) that is special to your family (for some gifts you'll need more than 1). Here's the list!
This post contains affiliate links. If you click the link and make a purchase, we receive a small commission but it doesn't change the price of the item. Thank you!
1. Custom iPhone cover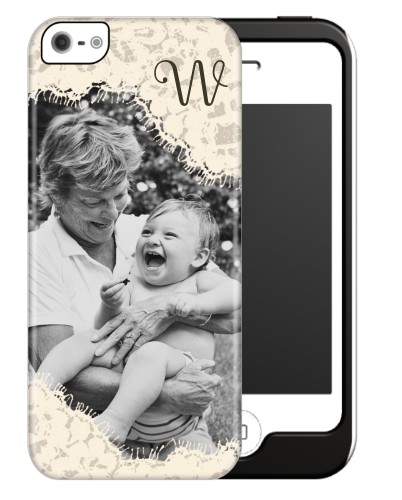 iPhone Cases: Surrounded With Lace from Shutterfly
2. Photo Pillow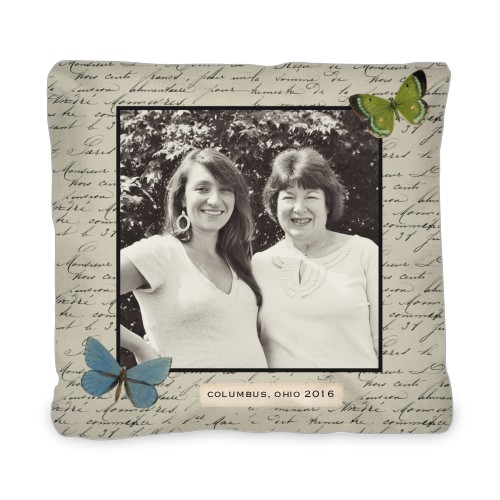 Parisian Newsprint Butterflies Outdoor Pillow from Shutterfly
3. Coasters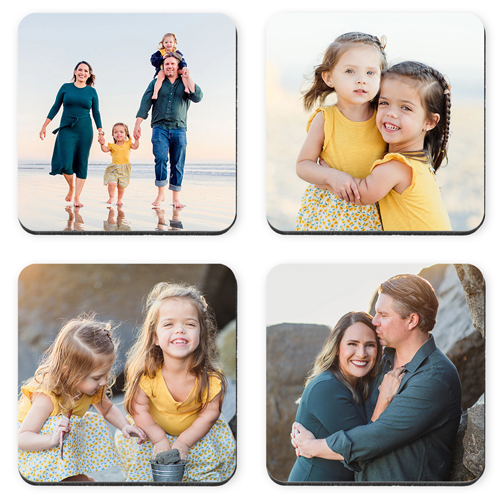 Coasters from Shutterfly – available in sets of four with a different photo on each coaster
Or make your own with the tutorial here:
While writing an article on family history craft projects for Family Tree Magazine, I came across several awesome examples of how to create tile photo coasters to display family photos. After being inspired by The Frugal Girls and Oopsey Daisey blog posts, I decided to create my own set of photo tile coasters-and they turned…
4. Personalized Placemat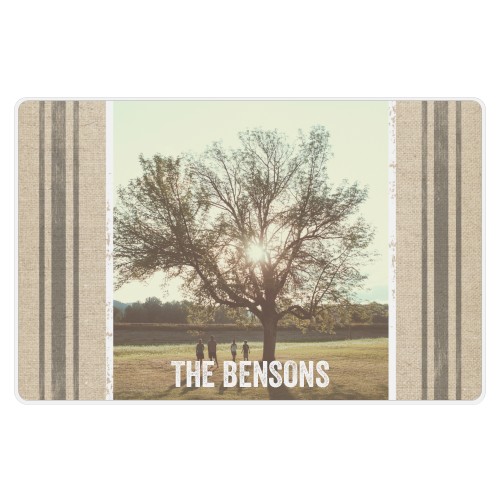 Distressed Stripes Placemat from Shutterfly
5. Personalized Book
Why a Daughter Needs a Mom Personalized Photo Book from Put Me In the Story
This is a book by Gregory Lane was originally published in 2013 and was a New York Times bestseller. You can personalize the book at Put Me in the Story by adding your own photos and reasons why Moms are so important.
6. Custom Platter
Scan Grandma's, Mom's, or any loved one's handwritten recipe and send it to me as a hi-res .jpg file (wait til you order and I'll contact you with the specifics). I'll transfer it to a 10″ white porcelain square platter and fire it in my kiln to create a permanent, sepia-toned image that is food, oven, and microwave safe.

7. Photo Notepad
Key Notepad from Pinhole Press
8. Magnet Set
Square Photo Magnet Set of 12 from Pinhole Press
9. Personalized Notebook
Modern Slides: Sandstone Paper Notebooks from Tiny Prints
10. Personalized Stationery
Remembering When: White Everyday Occasions Stationery from Tiny Prints
What special mother's day gifts have you given or received?